Welcome to Ex-Mormon Christians United For Jesus!
---
"For all have sinned, and come short of the glory of God; Being justified freely by his grace through the redemption that is in Christ Jesus" Romans 3:23-24
Welcome to our official website! We are a Christian ministry that teaches doctrinal differences between Biblical Christianity and Mormonism. We present Bible truths in love and kindness (Ephesians 4:15).
---
---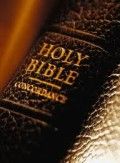 For Christians, life is about that all encompassing relationship with the Living Jesus. Everything we know of importance, all that we have, and all that we do is for Him--because of His neverending love for us. Our standard for our walk with Him is the Bible. It proclaims Him, prophesies of Him, and teaches us to know Him intimately. It is the flagship against which we test all truth. If something we hear does not line up with the teachings of Christ, his prophets, apostles, and disciples in the Word, would a Christian not question it?
"The end of all things is near. Therefore be clear minded and self-controlled so that you can pray. Above all, love each other deeply...Each one should use whatever gift he has received to serve others, faithfully administering God's grace in its various forms...so that in all things God may be praised, through Jesus Christ. To Him be the glory and the power for ever and ever. Amen."
1 Peter 4:7-11
Learn more about our ministry